Flurries of snow and a lucky biopsy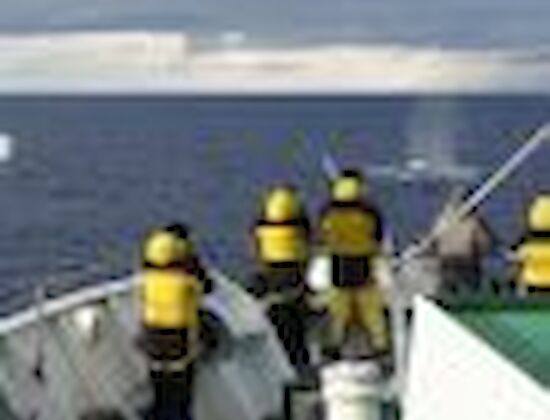 Last Friday, our initial day in the survey area, I reported our thrilling success with the first Antarctic blue whale we encountered. That evening, we sampled another blue whale from the inflatable boat. On Saturday we again found some more Antarctic blue whales but were disappointed that a biopsy dart we shot from the main ship had apparently missed its mark. On retrieval, we were surprised to find a small piece of skin in the tube; the lucky shot had ricocheted on the water and skimmed the whale. It was interesting to note that the behaviour of the whale had not changed despite the biopsy dart hitting its skin, although our own adrenalin levels were through the roof!
All on board are proud to report the tally against our scientific objectives so far;
biopsy samples from three Antarctic blue whales
photo-identification of the above three whales
photo-identification of a further two Antarctic blue whales
The further south we go, the longer the daylight hours. We have plenty of time to work in the evenings as it's light until nearly midnight. Today we have been huddled out on the fly bridge searching for whales and braving flurries of Antarctic snow. This is no ordinary wet snow, but soft and dry like balls of polystyrene. We regularly sweep the decks clear and chip ice off the handrails. As if by magic, a snowman has appeared outside the bridge. The calm working conditions at present are a welcome contrast to Sunday night, when a storm with winds of 50 knots kept everyone awake for hours.
These scenes of a winter wonderland are not distracting us from the task at hand. We have not encountered another Antarctic blue whale for two days, despite constant eavesdropping for whale songs by our acousticians and scouting the horizon by our observers. Yet, we are standing ready to launch the inflatable boat at just 10 minutes notice if an Antarctic blue whale is spotted among the passing parade of humpback and fin whales, with an occasional minke or sperm whale thrown in for good measure.
Read our daily Sitreps to track the Explorer's progress through the wild Southern Ocean.